Never Left
(Matthews)

It was a long cold season, been a long time gone,
I needed reconciliation for so so long,
I stepped into the fast lane,
I felt the sting of the sin and all its pain,
Well there was Mustang Sally, Miss Molly and Johnny be bad,
With all the worldly temptation of the flesh that satan had,
Everyday got a little bit darker,
As the clouds of the sin did blind my eyes-

Jesus never left me- in my hour of need,
He lifted me up- and he set me free-

Well now I'm standing on His promise, and I'm building on the rock,
And I will fear no evil, He's my rock around the clock,
Everyday gets a little bit brighter,
He's my love and my life and my bright morning star,

He never left!

Streetwise
(Heald/Copeland/Dawdy/Ledesma)

I used to be such an angry man,
I thought I had a lot of things at my command,
I was oh so sure of what I wanted to be,
But I knew deep down that I wasn't free-

If you're streetwise, you're losing against the other side,
Paying dues but you're still deep in debt,
If you're streetwise, you're losing against the other side,
The devil could be the death of you yet-

I used to party down nearly everyday,
Forced myself to believe everything was ok,
Blazing a trail into the night,
But I knew deep down that it wasn't right-

It wont be easy but I've got to fight,
Jesus has shown me how to get my life right,
Once I was lost but now I'm found,
I was on a highway to hell but now I'm heaven bound-

All You Need (Salvation)
(Ledesma/Sipe/Dawdy/Heald/Carlson)

You donut know what to do,
You donut know what to say,
You're mind is so confused, should I go should I stay,
But deep in your heart,
There's a feeling you get,
When you look to the Son everything is at rest-

I donut know what I should do,
I donut know what I should say,
I donut know what I should do,
I donut know- What should I say?

Just open you're heart,
and ask Him in,
Open you're heart just to begin,
All you need to do,
Is come to that state,
When your life is more important,
than those worldly games that you play-

With open arms,
And just the way you are,
No sin is too great, no sin is too small,
To be forgiven,
is what you want,
Jesus is the answer just sing it out loud-

Now I know what I should do,
Now I know what I should say,
Now I know what I should do,
Now I know- what should I say?

Salvation!

Cry Out for the Children
(Heald/Sipe/Dawdy/Englerth)

You can see the names and faces,
On the posters every day,
Children with such trusting hearts,
All of whom have been betrayed,
We cry out for the families,
As they embrace a dark unknown,
Will the children that they've loved so much,
Ever safely return home-

Behind the bruises and broken bones,
Stands a four year-old confused,
Innocent eyes they donut understand,
Why he must endure so much abuse,
Down the street a girl is crying,
Her teenage innocence is gone,
Why does her daddy force her,
When he knows that it is wrong?

Cry out for the children,
Keep a hope and faith in God above,
Cry out for the children,
For He is fervent in His love,
He will take them in His loving arms,
Give them shelter from the storm,
Guide each suffering wounded heart,
To a place that's safe and warm-

Communication
(Heald/Sipe/Dawdy)

Sometimes we make it hard to make people understand,
'cause the Word ain't in our hearts it's only in our hands,
We've got to give Him everything and yield to His command,
Communication-

Although some preach the Word others call them fools,
'cause some come in Jesus name breakin' all the rules,
He knows every secret and He knows our every move,
Communication-

If He isn't Lord of all, then He ain't Lord at all,
A house against itself you know will surely fall,
Why do we think of "self" with so little time to learn,
When our lives are cleansed by fire will they stand or burn?

Please listen to my cries, listen to my plea,
We can only beat our enemy on our bended knee,
Communication is the key-

Hope of Glory
(Heald/Oxford/Sipe/Dawdy)

Clouds silhouette the darkened sky,
As the winds of war approach,
Many fear and question why,
Waiting for the reign,
Bearing the scars of battles past,
The wisemen and the fools,
On this day the first become last,
Waiting for the reign-

And comes our Hope of Glory,
Perfection overcomes the past,
This is our Hope of Glory,
Our Holy Lord's own year at last-

The sky is filled with thunder,
Lightning breaks the seven seals,
My eyes are filled with wonder,
Waiting for the reign-

The four horsemen of the apocalypse,
Ride the dawn of the new day,
Those who once denied His name,
Now wish they had obeyed,
The sky has turned to ashes,
The moon has turned to blood,
The Holy Lamb of God's returned,
To take those who received His love,
To their Hope of Glory-

I'll Walk Away
(Englerth)

Slowly as we talk, I want to touch,
Temptation, oh temptation,
I think I know what's possible,
I donut need no explanation-

And there ain't no anthems to sing,
And I donut have the right words to say,
I wont bow my head in shame,
As God grants grace, I'll walk away-

I feel I'm standing in the shadow of death,
It never looked this good before,
I wearily watch the danger seep out,
Of each and every pore-

Evil presses the mark,
Gonna rent my heart,
Hear the hell hounds bark,
It seems so dark, so dark, so dark-

Hail to the King
(Heald/Sipe/Dawdy/Englerth)

Lightning flashes east to west,
Thunder cracks the sky,
And every tongue will confess,
Only truth and no more lies,
Every knee will hit the pavement,
There will be no long good-byes-

All the children sing, Hail to the King,
To Jesus praises sing, Hail to the King-

The thief will seek to find,
No more souls to steal,
The gambler will not find a game,
No one to wheel and deal,
The counterfeits are losers,
Every sin will be revealed-

Lord of Lords and King of Kings,
Jesus master of everything,
Jesus lives, Jesus reigns,
All the children sing Hail to the King-

Witness
(Heald/Copeland/Dawdy/Ledesma)

I used to cruise the streets at night,
I used to pick up girls, then I'd pick some fights,
Drinkin' and Brawlin' my life was a thrill,
Almost took my life by taking pills-

Lord you know there's got to be a better way,
Give me strength you know I want to stay,
You know this street, it does me no good,
I read your Word and then I understood,
And then I understood-

Walkin' the street with the Book in my hand,
Talk to drunks and hookers, do what I can,
You got me out now you're sending me back,
to launch full scale war against the devil's attack-

satan donut want your number,
You lost this round with me,
Jesus is in control of my life,
In control of my destiny-

Walk with the Lord and you'll truly be free,
He loves you, you need Him please listen to me,
Jesus is Lord and He's in command,
He's calling you now and you must take a stand-

Words of Love
(Englerth)

As I come before you,
My legs begin to shake,
It seems just like a dream, yet it seems I'm wide awake,
It's a short fall,
Down to my knees,
Before I yielded to You, it was like my legs would freeze-

Then I hear Your words of love,
I feel Your gentle touch,
Then I know it's enough to hear Your words of love-

In a land of possessions,
I compromise every day,
I want reconciliation, my innocence regained,
But reason calls for justice,
Justice spells out demise,
The law lays me low and leaves me terrified-

The devil's my accuser,
The false angel of light,
Then grace calls out my name,
And give me strength to lift up my eyes-

Renegade
(Heald/Dawdy/Sipe)

He has little accountability,
And less counsel will he hear,
He's far too busy preachin',
For God's voice to reach his ears,
Demanding so many to sacrifice,
But he seldom does the same,
Never worries when it all comes down,
There's always satan there to blame-

Practicing churchianity,
He thinks it's all a private game,
If it's done in Jesus name-

Renegade-you can never hide from the lies,
-God can see through your disguise,
-Why do you throw it all away?
When Jesus is the only one who can save your life-

He reads between the lines,
For his cause and the effect,
To justify or nullify,
All the scripture he rejects,
Compromising the Word of God,
explaining times were different then,
He'll believe in almost anything,
To escape reality of sin-

Though he thinks he's moving forward,
His wheels just spin into the ground,
His eternity in the balance,
He has no clue to where he's bound-

Frontline
(Heald/Sipe/Dawdy)

Through Jesus we have power to command,
Crushing satan with an iron hand- on the frontline,
Though evil tries to sing the world away,
We make our stand and here we'll stay- on the frontline-

We've claimed the territory now we'll show them we believe,
Let our walkin' do the talkin' for the many who have been deceived-
On the frontline-

Satan's fate decided so long before,
Always failing to even the score- on the frontline,
All alone within his lies,
they can't be heard over victory cries- on the frontline-

Lift our voices in triumph cause the war is already won,
Send a message to the devil, we ain't finished we've just begun-
on the frontline-

All Day Long
(Oxford)

All day long I feel the enemies might,
All day long they are proud to fight,
All day long they think of me,
Listening, watching, waiting,
But by Your strength they flee from me,
It's your Spirit that they see-

I will trust in your promises,
You are there beside me,
When I'm afraid I look to You,
If You are for me, what can they do?
I can feel You pull me through,
Your wings of love, they cover-

You have seen me tossing, turning in the night,
You save my tears from the hard times of life,
I call Your help and see the battle turn,
One thing I know, God is for me all day long-

Falling Down
(Matthews)

I stand before you a changed man,
My old friends can't believe,
I'm doing all I can,
I must be strong,
The voice of temptation, I can't do it alone,
Jesus helps me,
Their watching and waiting to cast the first stone,
They'd love to see me -
Falling down-

Yea though I walk through the valley of death,
I wont be afraid,
When I am weak that's when He's at His best,
Man I got it made,
I'm standing tall when I'm down on my knees,
I can talk to you,
Jesus it's you that I'm willing to please,
Just what is it that you'd have me do-
By God's grace I'm not, Falling down-

Shelter
(Heald/Copeland/Dawdy/Ledesma)

Left alone so lonely, and leaving no stone unturned,
You try to find the answer, inside your heart it burns,
you know He's right beside you,
Behind you all the way,
You may not see Him, but you feel it,
Calling your heart today-

The Lord is a shelter, His love is all you need,
If you wanna do right, wanna do right, His love is guaranteed-

It's when you're all alone He'll find you,
He can hear your cries in the night,
His love and His forgiveness,
Can really bring you out into the light,
Begin to trust and serve Him, because you know He cares,
Open your heart please listen, because you know He's there-

When crying wont help you,
His love is always there,
Take up your cross and follow,
Read the Word and be prepared,
Life is an endless battle, against a dividing force,
But you can be the victor, if you take it to the source,
Take it to the Lord-

Suicide
(Heald/Dawdy/Sipe)

She was beautiful,
And in with the boys and the girls,
She had everything,
Her heart desired in her own little world,
But she hid behind the make-up,
On one began to see the shake up,
No warning signs until she stepped across that line-

Suicide- one more statistic for the files,
- a facade behind the smile-

He was hot,
Played guitar in a rock n' roll band,
He had the look, he had the stuff,
He had it all under his command,
But one day he didn't wake up,
Over some slack he couldn't take up,
No warning signs until he stepped across that line-

By all accounts they had it all, until the day they fell apart,
No one knew until they took the fall, the awesome price of a broken heart-

Break the Chains
(Englerth)

One sin, just one mistake,
That's what started it all,
Then one more, then another,
They lost count as I recall,
To insanity from reason, to hopelessness from might,
To haunted from satisfaction, to sepulcher from life-

I'd like to break the chains,
That lock us to the past,
And take away the pain,
And answer all you ask,
I'd like to Break the chains, but I can only point the way-

Shackled to a fallen nature,
Bound to fall again and again,
It's a universal game,
It's called the ball and chain,
Imprisoned by acts of freedom, when freedom means what you feel,
That kind of liberty comes not to give but to steal-

The bottom line is simple,
God's grace covers it all,
If we'll turn to Jesus,
As we admit our faults-

I Wonder 'bout This World
(Englerth/Sipe/Dawdy/Heald)

I hear drums, beating out the tempo,
There's no direction, just go, go, go,
There ain't no questions, n' there's fewer answers,
There's only movement with a sense of danger-

I wonder-'bout this world-

I'm actuated, my heart's a flame,
The music may stop but the dance remains,
The walls all fall, we just keep on,
Till the dust settles, time's finally gone-

Love beyond reason,
Beyond the wisdom of man,
Why God still cares I donut understand-

All songs rm Talktunes/ED Englerth Music 1985, 1986, 1987, 1988 and 1989.
Writers are listed under the title of each song.

---
Project and Band information

The "Hope of Glory-Anthology" project is comprised of various recordings made between 1985 and 1990. Most of these recordings appeared on Armada's three albums. "All Four One", released in 1986, "Frontline", released in 1987 and "Black & White", released in 1988. The remainder of the songs represented in this project were the beginnings of a fourth album, and were never released before being included in this retrospective. They have since been included in the "Break the Chain" project as well. Armada was conceived in 1985 by John Heald and Dave Dawdy, both of whom remained members thoughout the entirety of the bands five years, and Randy Carlson. Many other players also contributed to Armada's sound and legacy, and their contributions have been faithfully preserved on these recordings.
Armada was also, and more importantly, a music ministry. We dedicated our lives to spreading the Gospel of Jesus Christ. Many of the members of Armada are still involved in music ministry, or are active members in the ministry of their local churches. Jesus Christ was and is our salvation and inspiration.
All three ARMADA releases were on E&E Records.

---

ARMADA
was

Dave Dawdy
Lead Guitar, Guitars, Keyboards

John Heald
Drums, Percussion, Lead & Background Vocals

with

Randy Carlson
Bass Guitar (1985-1987, 1993)

Jeffrey Sipe
Lead Guitar, Guitars, Keyboards, Background Vocals (1986-1988, 1993)

Doug Oxford
Lead Vocals, Background Vocals, Keyboards, Guitar (1986-1988, 1993)

ED Englerth
Bass Guitar, Background Vocals (1987-1990)


Rick Ledesma
Lead Vocals, Background Vocals (1985-1986)

Luie Bradley
Lead Vocals, Background Vocals (1989-1990)

Jimi Lee Matthews
Lead Guitar, Guitars, Lead and Background Vocals (1989-1990)

Steve "Frog" Forgey
Lead Guitar, Guitar, Background Vocals (1989)

Bill Bartilson
Concert Sound Engineer (1987-1990, 1993)

---
ARMADA can also be found on the following music compilations

"Underground Metal" released by Regency Records 1988 (790-082-2003)
"White Metal Invasion" released by E&E Records 1989 (EE004)

---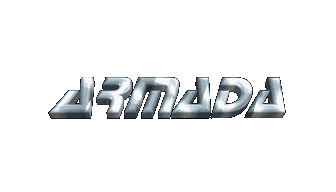 Click on the logo above to return to ARMADAROCKS!